The instant Fly Trap is an innovative way to catch those pesky flies and mosquitos.  It's new technology traps these pests in a way never seen before.  As the motor turns the flies get trapped beneath the blade, forcing them into a container.  It's a genius.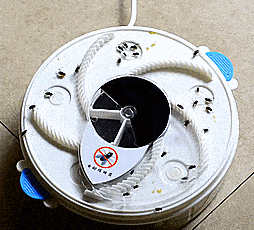 FEATURES
Instant Fly Trap baits fly with food and swiftly traps them
Eco-friendly,
uses physical methods instead of chemicals
Smart design, compact, highly portable
Powered by USB – plug into your phone, laptop or wall outlet using an adapter plug
Simple and effective
No noise pollution, no light pollution, and no chemicals
Safe for humans and pets
Easy to clean
High quality
plastic construction
Anti-shock and crush-resistant
Weight: 0.25 kg/ approx. 0.5 lbs
Your purchase includes: 1 x Fly Trap Device, 1 x Bag of Trapping Food, 1 x USB Cable
How Does It Work?
The flies are lured by the smell of the bait you've put out, and as they settle to claim it, they are whisked away by the spinning plate and contained in the hull of the trap. Inside the trap, the flies will die.
It's very simple and highly effective!
AND because our Instant Fly Trap uses physical methods rather than chemical methods, it is far safer for you and your family.
No chemicals, no annoying lights, and no distracting noises make the Instant Fly Trap a must-have for family, picnics, restaurants, eateries, and markets.