MAKING BEAUTIFUL DRAWINGS WITH OUR SPECULAR DRAWING PROJECTOR IS SO EASY!
Immagine how many beautiful drawing could you do in a such easy way! Our Specular Drawing Projection will definitely be a game changer in your drawing experience.
Not to mention, drawing has therapeutic, meditative qualities. It's a nice way to release anxiety, stress, and all the worries of the average day.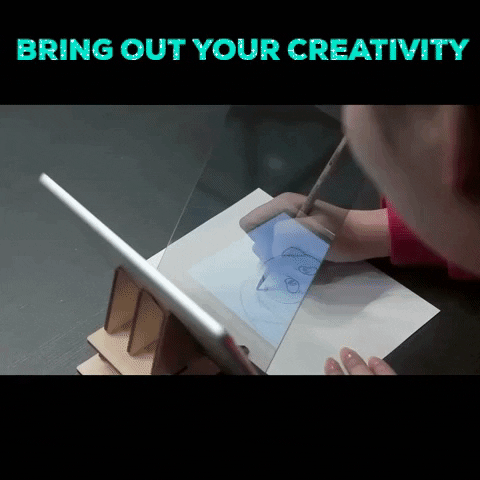 WHAT ARE YOU WAITING FOR? BRING OUT YOUR CREATIVITY!
Thank to its  2 splicing methods for bracket you can use Specular Drawing Projector with any phone or tablet/Ipad
Images can be projected onto other planes, such as clothes, bags and so on
helps to develop hand-eye coordination and basic drawing skills, no harm to your eyes. You can paint on paper, clothes, bags and so on, suitable for children, kids, students, adults, beginners, anime enthusiasts, amateur painting enthusiasts.
PROJECT IMAGES ONTO ANY SURFACE
Our Drawing Specular Projector allows you to make beautiful designs on any surface, you can decorate bags, wood, t-shirt, shoes… There are no limits to your creativity!
ALSO FOR "LITTLE" ARTISTS
Drawing Projector help children to express their creativity and have fun, harvest hope, and happiness growth, focus on process-oriented art, build self-confidence, keep art fun, and don't ever say, "I can't draw."
Drawing Projector is the best gift for your sweetheart, art interest and what they draw is priceless.
Drawing Projector helps your sweetheart to draw any masterpiece more easily anytime.
SIZES